National housing starts hold steady in February
---
National housing starts hold steady in February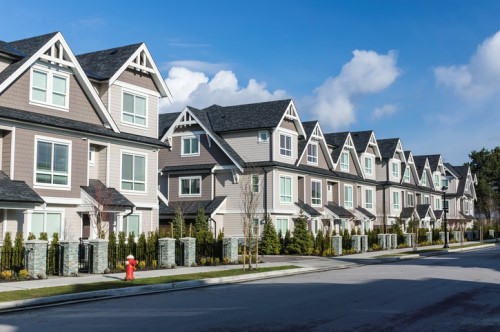 New data from the Canada Mortgage and Housing Corporation (CMHC) showed that the 6-month moving average in housing starts' seasonally adjusted annual rates was at 225,276 units last month, compared to 224,572 units in January 2018.
"The national trend in housing starts has been very stable since November 2017, masking offsetting trends for multi-unit and single-detached dwellings," CMHC chief economist Bob Dugan said. "Multi-unit starts have trended higher in recent months in most major urban centres while single-detached starts have trended lower."
Vancouver played a large role in keeping national starts relatively stable, CMHC stated. "February housing starts in the Vancouver census metropolitan area (CMA) continued to build on the increase in construction activity in the previous month, leading to a strong start to the year in 2018. The North Shore, Burnaby, and the City of Vancouver were the main contributors to the increase with a number of condominium and rental multi-family units getting underway."
Another B.C. metropolitan market also contributed to last month's numbers. "The trend measure for housing starts in the Victoria CMA moved upward significantly in February as a result of a large number of multi-unit dwellings getting underway, particularly new apartment rentals and condominiums. Demand for multi-unit housing of all types remains high in the Victoria area as inventories of unsold units and rental vacancies remain low."
Read more: Demand spreading to communities surrounding major markets
Toronto and Montreal proved to be further major factors in ensuring monthly stability. "Housing starts in Toronto CMA trended higher in February on the back of a record number of apartment starts. Elevated prices and affordability concerns in the low-rise market have resulted in significant increases in condominium apartment construction," CMHC said. "The surge in the construction of rental apartment units continues in the Montréal area, with 1,400 units started since the beginning of the year, about three times more than in the same period last year."
These performances helped offset weakened output in Winnipeg and Calgary, among others.
"Housing starts continued to moderate in the Winnipeg CMA in February as the trend in total housing starts moved lower. The decline in total housing starts was largely concentrated in the multi-family segment, with rental apartment units posting a considerable decrease compared to last year."
"The trend in multiple construction [in Calgary], which was relatively strong in the second half of 2017, has moderated. Elevated apartment inventories continue to slow the pace of construction."
Related stories:
Published at Mon, 12 Mar 2018 04:59:58 +0000